Quick and Easy Kid's Pom Pom Hat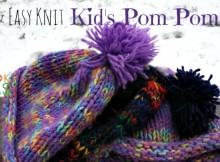 December 9, 2015
0 Comments
Is there a child in your world you'd like to make something for? Got a Mitten Tree in your neighborhood you'd like to donate to? Have you always wanted to learn how to knit, but have been putting it off? Well, call me the good news winter fairy, cause I have just what you're looking for.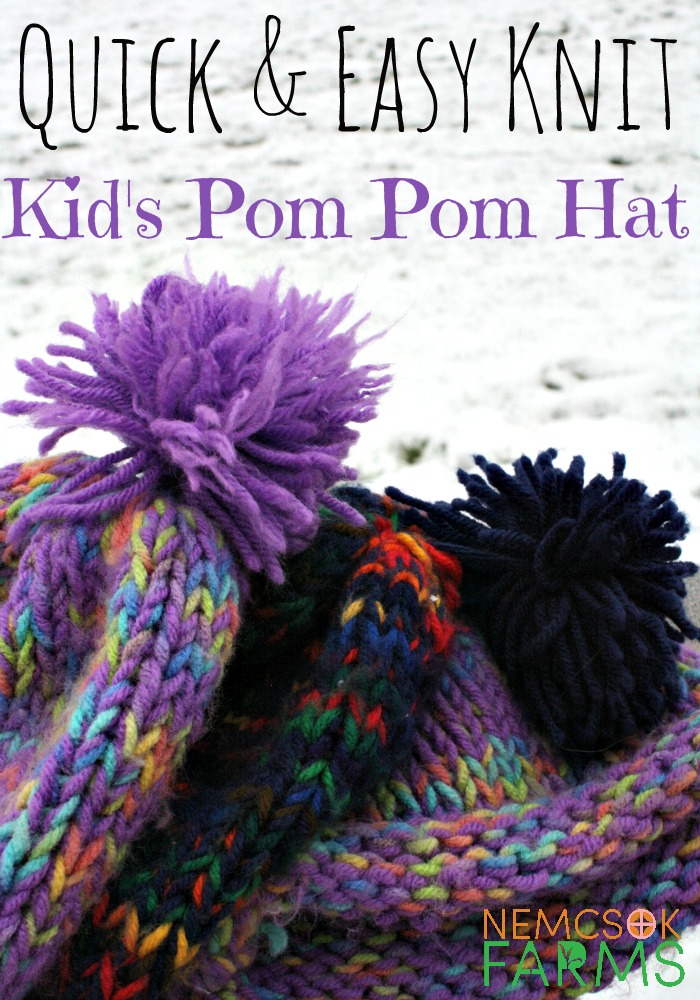 This Quick and Easy Kid's Pom Pom Hat (click on the link for the printable pdf) pattern is so easy, if you've been wanting to learn how, start here. Use this pattern. You'll need to know how to cast on stitches, do a knit stitch, a purl stitch, and how to sew a seam. Lion Brand has an awesome tutorial, you can check it out here
I taught myself how to knit, with a how to book, and way too much time on my hands. But it was worth every minute. And before you get started, here is my biggest best-est piece of knitting advice – follow the instructions. Knitting instructions are quite literal. So when the pattern says to K2tog, it means Knit 2 together. Yep. Exactly that. Knit the next two stitches together. Easy peasy.

I often find myself searching frantically for something that I can make up super quick. I am by nature a Do It Yourself-er, and can't control these little impulses. So while I am constantly adding to my repertoire of quick and easy DIY projects, I will share them with you as well. That is, the ones that aren't giant fails. 'Cause, those happen too.
Quick and Easy Kid's Pom Pom Hat
Materials
2 strands of worsted weight yarn held together
9 mm straight needles
darning needle
scissors
Instructions
CO 44 sts
knit 4 rows
row 1 knit
row 2 purl
rows 3-28, repeat rows 1 and 2
row 29 knit 2 tog across
draw through loops, cinch in and fasten and sew seam
add a pom pom
Notes
This hat is worked flat, on straight needles.
This pattern uses large diameter needles, and two strands of worsted weight ( category 4) yarn held together, making it work up fast.
click on the image below for the printable pdf. format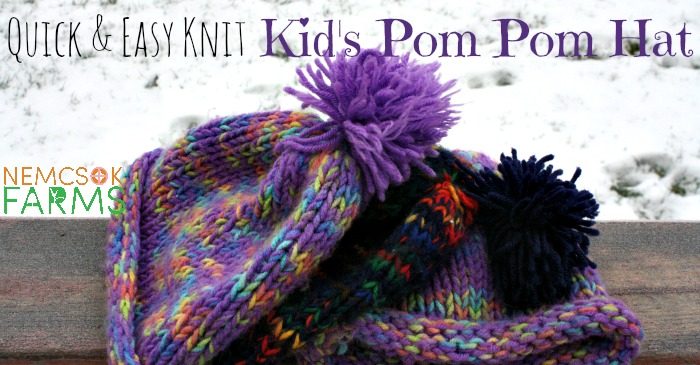 Let me know if you have any questions!
Looking for more great DIY projects?