Mother's Day Bath Pouf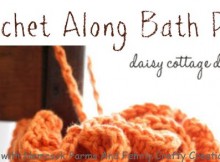 April 23, 2015
0 Comments
Crochet? Me either. Why not learn along side me? Get the pattern for this crochet bath pouf from Daisy Cottage Designs, and come on back to learn how to crochet along with me. It's gonna be really really fun.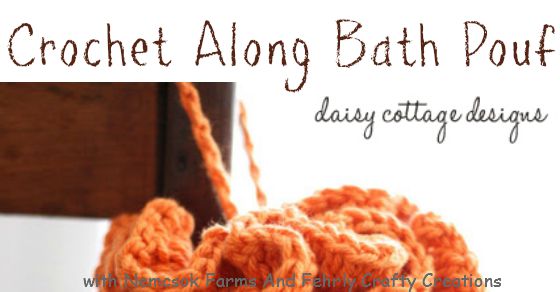 This Pattern and Photo are the Property of Lauren @ Daisy Cottage Designs and can be found at http://daisycottagedesigns.net/crochet/bath-pouf-crochet-pattern/
Crochet Bath Pouf for Mother's Day
Once again we are working with Ashley from Fehrly Crafty Creations – in order to make some lovely gifts for Mother's Day!
Plus, I really want to learn how to crochet…I have mastered knitting, but crochet is one of things that I have not been able to wrap my head around. But I will do it. And if I can do it, you can do it!
Seasoned Crocheters (is that a word?) and Learning Crocheters ( I am pretty sure that is not a word.) alike can all tackle this project together. And for any of the experts out there joining in… feel free to jump in with your comments and helpful hints. It is you who we are looking to hear from.
How to Participate in this Event
Its super easy to join in. We are all about letting everybody play… So here's what you have to do:
Visit the link above to get the pattern (leave a friendly comment for Lauren too if you can – I am sure she would appreciate it)
Get your materials together: cotton yarn (50 gm ball should do the trick), I hook (5.5 mm) scissors, darning needle, tasty beverage
Let us know you're participating! Leave a comment below, send an message via facebook, tweet or whatever…
Cast on and let the crocheting begin!
Join theShower Loofah Crochet Along Group! Stay Connected to the Gurus…
I Get By With A Lot of Help From My Friend
As I mentioned, the very lovely and talented Ashley of Fehrly Crafty Creations is with us all the way! She is the crochet guru who is going to help us out when (notice I didn't say if) we get stuck. She will have helpful tutorials, including pictures and videos to guide us along. All will be made available here, on our Facebook page, and on Ashley's page too. She really wants to teach us how to crochet – and I am ready to start!
What's Coming Up
We're going to check back in a week. We will share some instructional videos and pictures. I would love to post some pictures of what you have done so far – so please feel free to send them!
Looking for more great DIY projects?