Water Colour Dragonfly Painting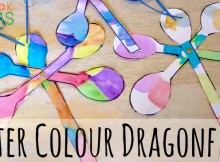 And sometimes, I amaze myself. Seriously – this is pretty clever.

Make This Fun Summer Bug Craft
If you recall making Ladybugs in this easy paper plate craft, and Bumblebees in this easy egg carton craft , it will come as no surprise to you to see us cook up another easy bug craft – but this time, we did something quite brilliant. I took a basic kitchen utensil, and made this crazy awesome stencil for these super cute bug crafts.
You won't believe it.
Materials:
Dragonfly Template (click to download and print)
Paper
Watercolour paints
Paint brushes, water, table cover, etc…
Sharpie
Scissors
Whole punch
Brad fasteners
This strips of construction paper – to curl for the antennae

Directions
Print the template, and cut out (or dig out a wooden spoon, and trace it a couple times. One Time putting the spoon at both ends )
Get your plain paper, and paint the entire thing, colouring all the white spots! Cover the entire paper with colour! Work as a team if need be 🙂
Trace out our stencil shapes onto the watercoloured paper with a sharpie. This makes a nice heavy line for easy cutting. Cut out the body and wings.
Arrange the wings over the body, and use a whole punch to put a whole where all of the pieces will fasten together, and fasten with a brad fastener.
Curl the end of the paper strips with scissors – this also makes a super fun demonstration! And attach to the head of the dragonfly with a gluestick.
Another Super Fun Summer Bug Craft for your List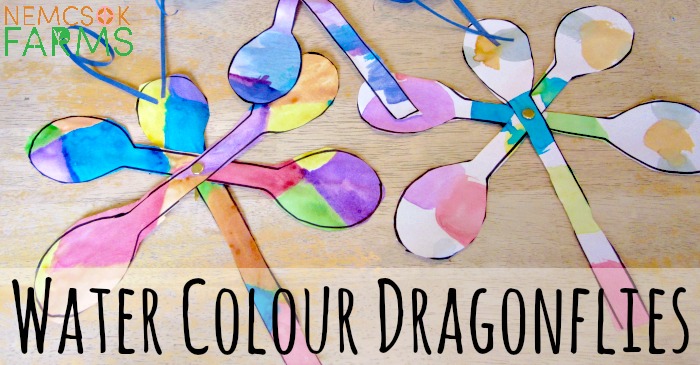 Follow Evelyne @ Nemcsok Farms's board Crafts Inspired by Nature on Pinterest.