Prettiest Purple Flowers for Your Garden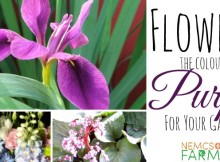 Spring is on it's way, I'm sure it is. While we are all waiting patiently for it to get here, why not get a little more garden planning done and consider the flowerbeds, window boxes, walkways, and all types of planters that we will fill? Purple flowers are a great addition to them all for year round beauty.
I want to bring you the best of every colour, and in February that colour is purple. So here are my favourites, and they are the prettiest purple perennial flowers, enjoy!
Spring Bloomers
Bergenias are hardy and evergreen!
The foliage is perhaps even prettier than the flowers, but none the less these would be a wonderful addition to any flowerbed. They do best in full sun or partial shade, and are drought tolerant once established.
These beauties also bloom in white, pink and red varieties.
Bell Flowers look delicate but are a hardy flower.
The foliage for these aren't much to look at, but they bloom in the spring and summer, so they get pretty, pretty quick. These also do best in full sun to partial shade, and to help keep them thriving use a mulch.
Reminiscent of fairy hats, you can get white, pink and blue varieties also.
Delphiniums are hardy and tall! Plant them at the back of your flowerbeds.
Again not the prettiest foliage, but they sure do have some fabulous blooms! They do best in full sun, but need some shelter from strong winds. They bloom in the spring and summer.
These too come in white, pink and blue varieties.
Phlox blooming is a sure sign of spring!
These are hardy as well, and enjoy the partial shade. They are a low creeper plant, and would lovely on the front border of any planter box.
You can get these happy flowers in white, pink and blue blooms as well.
Peonies poking out of the soil always gets me very excited!
They have beautiful foliage and gorgeous flowers. These may very well be my favourite, and I am sure I am not alone. One peony can actually do quite well as a stand alone flower right smack in the middle of the yard. Ants love them also, and despite what you may have heard – they do not need ants to bloom!
You can get these wonderful flowers in white, pink, red and yellow as well!
Summer Bloomers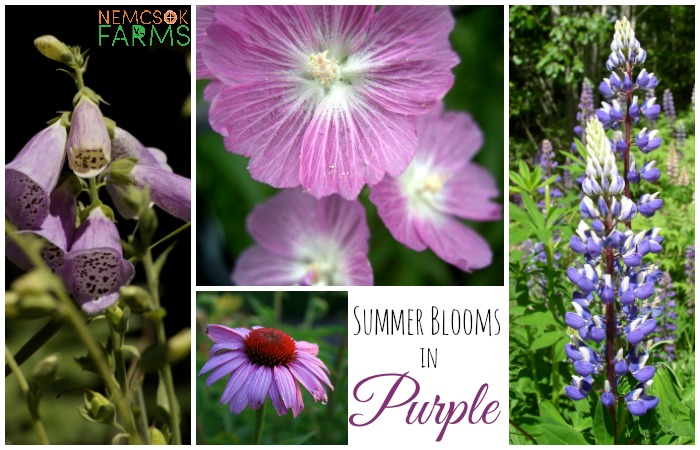 Echinacea is a flower that I have a love / hate relationship with. I mean, if you could ever really hate a flower….
They are hardy, and tall, and in my experience, are very tolerable. They do however spread very very easily, and spread nearly as easily as dandelions. Beware of where you plant them, and before they bloom, they are not the nicest to look at.
These too come in white and pink varieties, but are most known for their full on purple show.
Foxglove are a semi hardy flower, that grow quite tall.
The foliage isn't spectacular, but isn't offensive either. The prettiness of the blooms more than make up for lack of foliage. They do well in a bit of shade, and will self seed.
These sweet flowers are available in white, pink, red and yellow varieties.
Hollyhocks are the tallest flowers I have ever seen! They can grow up to 9′ high! That's nearly one story.
These are also hardy, and prefer full sun. Beware, their leaves whilst still growing, are quite ugly. I accidently pulled one from my flower garden, thinking it was a stinging nettle. I have come a long way…
I think these bloom in pretty much any colour.
Lupins are wonderfully hardy, and very unique looking flowers.
They can grow quite tall, they self seed very readily and easily, and the foliage is beautiful.
Lupins come in pretty much every variety of colour imaginable – even hot pink!
Fall Bloomers
Hostas bloom in fall, but their foliage is gorgeous all season long, from spring to fall.
They tiny purple flower is sort of a let down, and fails in comparison to the lovely foliage – which is rich and almost tropical looking.
They prefer a little bit of shade, and are a beautiful addition to pretty much any flower garden.
Prettiest Purple Flowers for Your Garden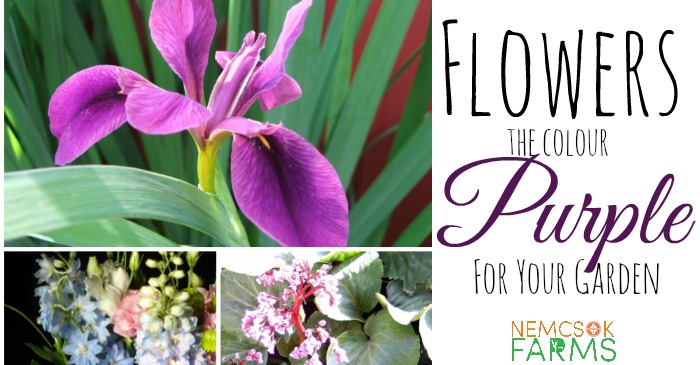 Head to the farm and rural properties nearest you, or to your neighbour to see if they are interested in propagating their garden delights for you. That way you will be sure to get untreated plants that are 'proven' to survive in your area. Local nurseries are also a great place to stock up on plants and flowers. Perennials are often more expensive than annuals, but are well worth the price when you consider your garden has the potential to last for a very very long time if the flowers in it all self propagate.
Nemcsok Farms sells lupin seeds harvested from the growth on our property, contact me if you're interested.
I know you will also really enjoy our best blue flowers for your garden!