Rudolph the Red Nosed… Pancakes?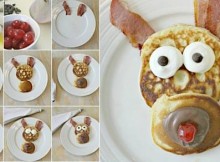 November 22, 2015
0 Comments
If someone ever says to you, can you make pancakes that look like Rudolph, you will truly be able to say "yes. Yes I can" And how cool would that be?
While we may not decorate for Christmas until well into the second or even third week of December – we do still crank out the Christmas tunes, and use every opportunity to turn something ordinary, into something Christmassy!
And you may gasp at the third week of December part. Well, we're a one holiday at a time kind of family, and we don't gear up for Christmas until after St. Nicholas Day has come and gone. A lot of the St. Nicholas decorations are also suitable for Christmas, but there is a clear distinction of the two. See our
Gingerbread House
for dessert on St. Nicholas Day here.
But when my Son says "Mom, can you make pancakes that look like Rudolph for supper?" I say "heck ya!"
Rudolph the Red Nosed Pancakes
Whip out the Christmas Tunes, and prepare to indulge your tummies and your holiday spirit!
Ingredients
Pancake batter (see recipe below)
Breakfast sausages or bacon
Whipped cream
Chocolate chips
Chocolate spread or peanut butter
Maraschino cherries
Pancake Batter Recipe
1 1/2 cups flour
1 tsp. salt
3 tbsp. sugar
1 3/4 tsp. baking powder
2 eggs
3 tbsp. melted butter
1 1/4 cups milk
Directions
1. Prepare the pancake batter : Mix dry ingredients. Add melted butter to milk. Add milk mixture to flour mixture. Add eggs. Mix just until not lumpy.
2. Prepare breakfast sausages or bacon
3. Fry your pancake batter in batches. One larger diameter pancake per Rudolph and one smaller diameter pancake per Rudolph
4. Assemble as shown below.
Serve and Enjoy!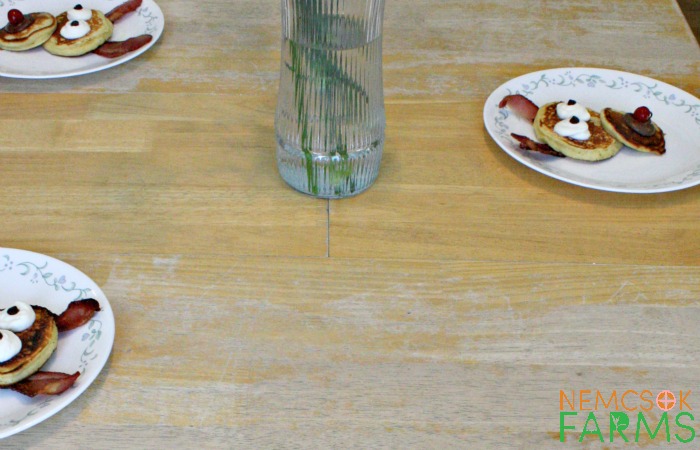 Stick around to see what else we cook up this holiday season!