Green, Crafty & Creative:Natural & Recycled Activities for Kids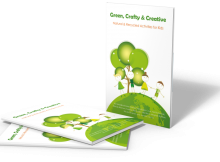 November 17, 2015
0 Comments
Green, Crafty & Creative is a collection of activities that are suitable for kids and families. There are creative crafts for kids that feature recycled materials like egg cartons and cardboard tubes. There are wonderful green crafts that use natural materials found right outside your door such as leaves, pinecones and shells. The book also includes many innovative ideas on how to make your home more eco-friendly: from brilliant DIY cleaners to easy gardening and composting instructions. You and your family will love getting Green, Crafty & Creative
And do you know what the coolest thing in the world is? That nifty little blurb right there above where you're reading now, pretty good huh? Yeah. I wrote that. Green, Crafty & Creative is a collaboration between 10 likeminded Bloggers, all trying to help you and your families get Green Crafty & Creative!
And this post contains affiliate links – to a book that I co-wrote with my green and crafty friends! How awesome is that?
Green, Crafty & Creative includes:
Over 70 crafts, tips and activities
10 contributors
Full color photos for every activity
Fully indexed
Get Your Copies of Green, Crafty & Creative
The
ebook
is available from
HERE
– regular price $4.95 USD
And if you have a
Kindle
then we have you covered too! Get that
HERE
! for $9.14 CAD
Currently the paperback is not available in Canada – but will be in a few weeks. Until then, feel free to order yours
HERE
(this link will take you to my co-author's page, Craftulate, and you can order your copy from her. Tell her I sent you 😉 )
Published Author: Check.
Hooked? Can't get enough?