Vegetable Planting Schedule: Starting Seeds Indoors
February 1, 2016
0 Comments
Get your gardening season off to a fabulous start with a vegetable planting schedule for starting seeds indoors. Starting seeds indoors is a great way to give your plants a head start, likely get you a better yield, and once those seedlings start sprouting, you will be encouraged and inspired to carry on. There's nothing quite like a nod from Mother Nature telling you you're doing it right.

Starting Seeds Indoors
It's fun and incredibly satisfying to see the life cycle of a plant. Most if not all areas in Canada and the US don't have a long enough summer to give certain fruits and vegetables time to complete their cycles, so we need to give plants a critical head start by germinating and growing seedlings in the warm indoors in early spring. Seeds wont germinate until frosts have ended and weather warms up, so for those that need a bit of a longer season, they need to be started indoors, instead of started directly in the ground. For a schedule of plants that can be direct seeded, check out Vegetable Planting Schedule for Direct Seeding
Vegetable Planting Schedule
You want to start your seeds indoors, but not sure when to start what? Can you just start all the seeds in march and hope for the best? Well, of course you can, but I have a better idea. Use this Planting Schedule -Starting Indoors for an idea of what you need to start, and when. I've also indicated where you should be hardening off your plants, and when you can likely begin to harvest.
Variables
Of course, keep in mind the last frost date typical to your area, your potting soil quality, the conditions of your garden soil, and the quality of your seeds. For simplicity, this schedule was made based on a last frost date of the first week of june. You are welcome to adjust your schedule accordingly.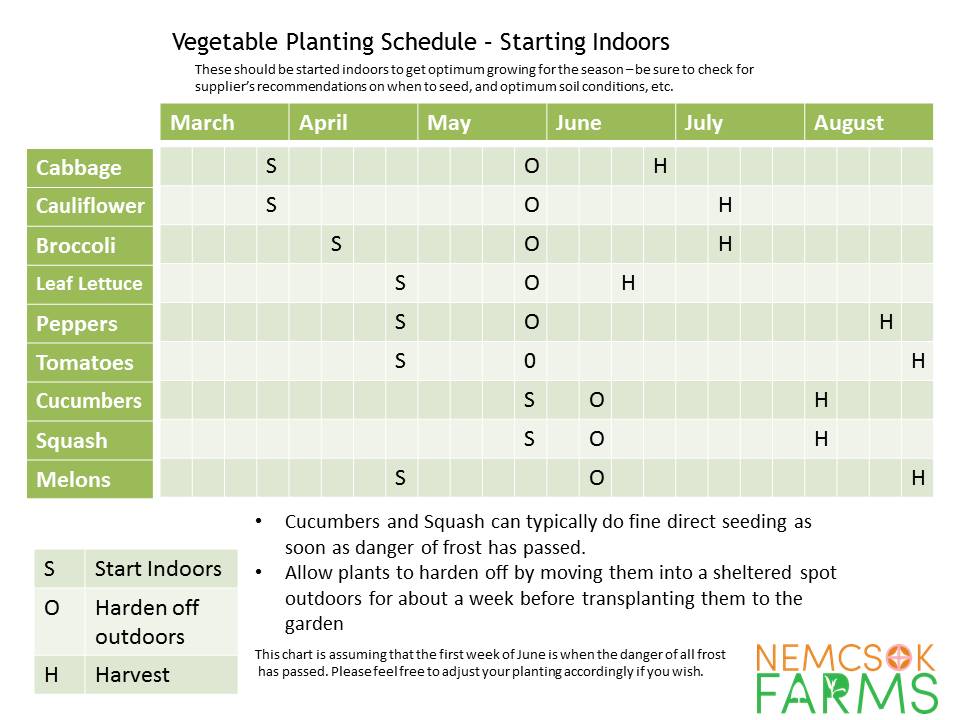 More information
When starting seeds indoors, keep in mind that your seedlings will need light and warmth, and water. Like anything in life, moderation is key. Don't over water, don't overheat, and don't leave your sprouts under lights 24 hours a day. This out your plants as they sprout, so that they are not competing for space. You can always move the ones you are thinning out to other pots. You've got a 50 / 50 chance of it surviving.
About a week before your garden is ready for all of the lovely thriving plants to move in, and the danger of frost has passed, move your plants to a sheltered spot outside. In the shade, but not in the dark. You'll have some good hardy plants ready to start giving you lots of yummy vegetables.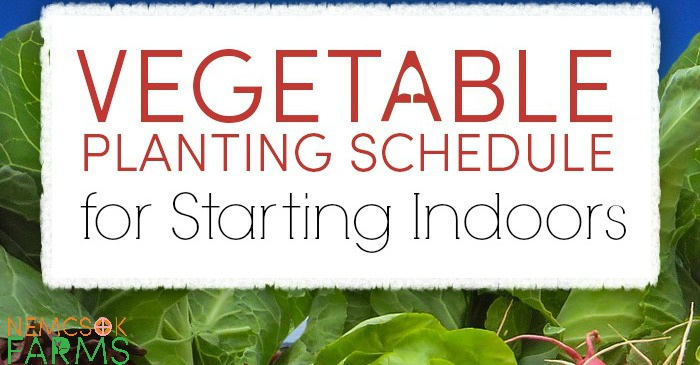 If you thought this was useful, you might want to have a look at our Garden Maintenance Planner, our Vegetable Journal and our Garden Plot Layout printable.