Homemade Pumpkin Pie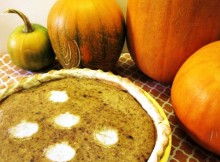 October 16, 2015
0 Comments
You know Autumn has arrived when people start whipping out their pumpkin pie recipes. It's the ultimate in comfort food, with a soft flaky pastry, and to. die. for. when you serve it up with whipped cream.
(This post contains affiliate links for your convenience. )
Homemade Pumpkin Pie
Ingredients
1/3 cup lard
1 cup flour
1/4 tsp. salt
3 tbsp. cold water
2 eggs
1/2 cup sugar
1 tsp. ground cinnamon
1/2 tsp. salt
1/2 tsp. ground ginger
1/8 tsp. ground cloves
2 cups pureed pumpkin
12 oz evaporated milk
* Note that pumpkin pie is easiest to make in a heavy ceramic or glass pie plate. If you don't have one, and are using an aluminum pie plate, place it on a cookie sheet for before you fill it with the pumpkin pie filling. You can put the whole cookie sheet in the over for baking, to avoid spilling the pumpkin-y goodness allover the place. I have included some handy affiliate links for your convenience.
Directions
1. Preheat oven to 425 F.
2. Prepare the pastry: Mix flour and salt into mixing bowl. Cut in the lard with the pastry knife, or pastry blender until you get coarse crumbs ( see the image above) Add the cold water and mix it with your hand. This is how you will get a nice flakey pie crust. When it can be made into a ball, it's ready.
3. Roll out the pastry with a rolling pin into as large a circular esque type of shape as you can. Don't over roll it, you want to do as much as you can in as few rolls as possible.
4. Fit the pastry into the pie plate by gently folding it into a semi circle, and carefully lifting the pastry over and onto the pie plate. Unfold and arrange to suit the pie plate. Trim the overhang to about an ince from the edge, and roll the pastry under at the edges, all around the pie plate. Use your thumb and index finger to pinch the pastry (as seen above)
5. Use the scraps from your pastry to cut out little pumpkin shapes to decorate your pie, set aside.
6. Combine all of the ingredients for the filling into a large mixing bowl. Mix until well blended. Pour into prepared pie shell, and place pastry pumpkins on top of the filling. The filling will be very runny.
7. Bake for 15 minutes, reduce heat to 350 F, and bake another 45 minutes.
8. Let cool, and serve with whipped cream. Refrigerate any leftovers.
More Than Pumpkin Pie
Got more pumpkin? Try Mini Pumpkin Muffins, or this super duper yummy (and very rich) Pumpkin Fudge and this family favourite Deep Dish Baked Pumpkin.
And I would be remiss if I did not include 40 Ways to Decorate, Craft, Cook and Play with Pumpkins, from our It's Friday We're In Love Series which you should totally be checking out!