Gift Wrap Valentine Flowers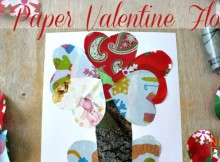 January 19, 2016
0 Comments
Valentine crafts are way better than Christmas crafts. I know I know, that sounds like something you would say right before getting struck by a hailstorm of glitter by the goddess of crafting. Don't worry Mouse, I can explain.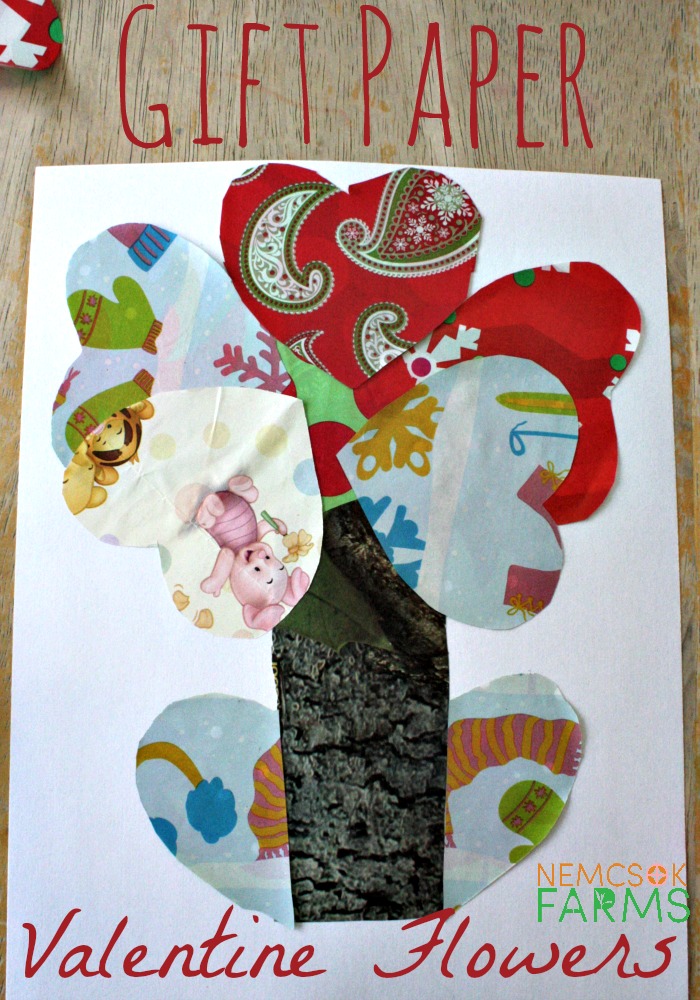 Valentine Crafts are the Bomb
Valentine Crafts are just as adorable as Christmas crafts. You can still use all the cute wintry characters, only you embellish them with hearts instead of candy canes and stockings. The biggest selling point for Valentines' crafts, is that there seems to be way more time to actually do them. We don't do big Valentine celebrations here, and we don't gift to one another at Valentine's Day – but we do craft. There is none of the "holy cow I need to clean my attic, light up my house to the nines, and bake 800 cookies" kind of pressure that seems to swallow up our sane selves at Christmas. And why not make them Eco- Friendly Valentine Crafts?
Gift Paper Valentine Flowers
Who doesn't love gift paper? It's pretty, it's colourful, and you can get a whole lot of craft out of a very small amount of paper! And doesn't EVERYBODY try to save it? Use the ends of rolls, the stuff you so painstakingly peeled off of your gifts, or if you don't have any – use any other pretty paper you have.
If you will recall cutting out a gazillion hearts from the Valentine Craft we did a while ago, I hope you kept them! Use them now, or cut some new ones, gather a couple of more supplies, and craft on Crafters. Craft on.
Materials:
Again, we used any wrapping paper we had on hand (end of rolls, and re-cycled from previous gifts, that had any red or pink on them.
A heart shaped stencil.
A sheet of background paper (be in construction paper or regular white paper) whatever you have on hand will work wonderfully!
Paper for the stems.
Glue sticks.
Directions:
Start by gluing on the stem.
Add leaves to the base. (Cut one heart in half for two leaves )
Fill up the tops of the flowers with lots and lots of petals! Repeat until you are out of paper!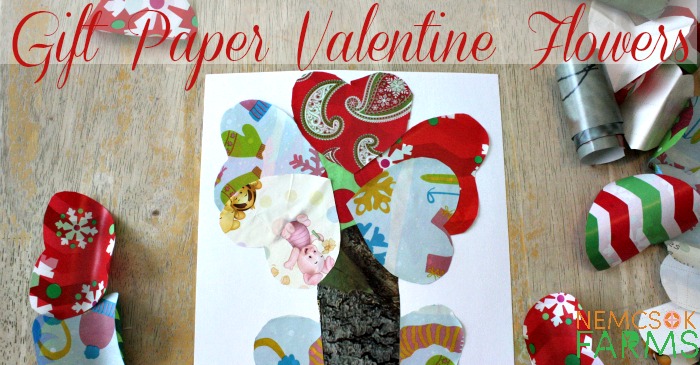 Top Ten Eco- Friendly Valentine Crafts using recyclable materials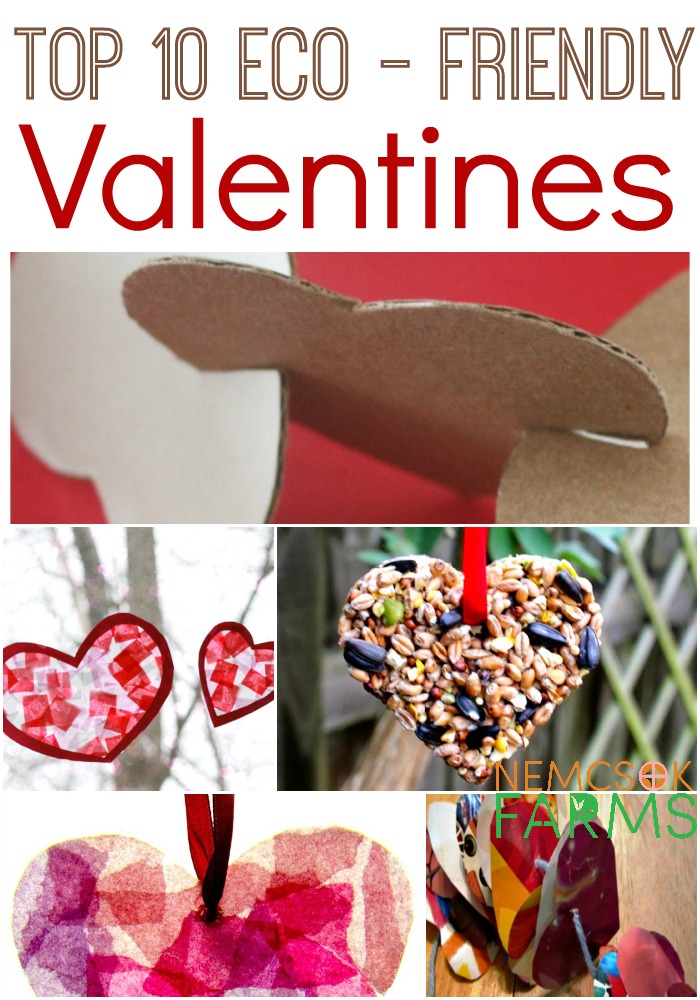 Rainbow Crayons Mosswood Connections
Cardboard Building Hearts Little Bins for Little Hands
Heart Suncatchers Family Food and Travel
Stick Heart Art Danya Banya
Valentine Seed Planting Buggy and Buddy
Milk Bottle Stained Glass Kids Craft Room
Valentine Bird Feeders Messy Little Monster
Twig Hearts RedTedArt
Fabric Scrap Valentines Happy Hooligans
Heart Streamers Nemcsok Farms
More Valentine Top Ten Lists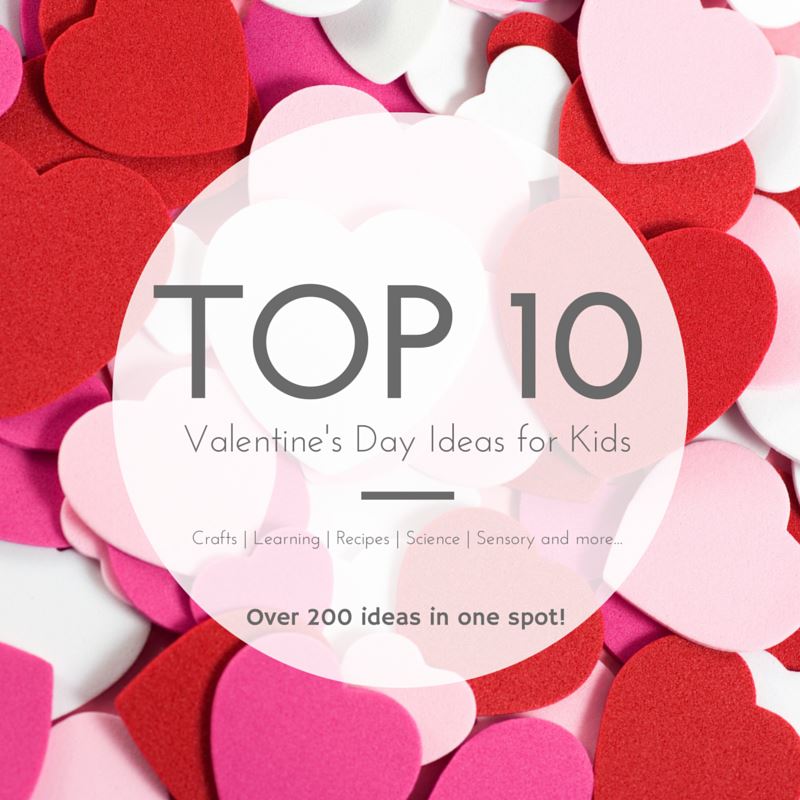 Top 10 Valentines Play Dough Recipes from Craftulate
Top 10 Valentine Desserts Kids Can Make from Study at Home Mama
Top 10 Free Printable Valentines from Our Whimsical Days
Top 10 Nature-inspired Valentines from OutdoorsMom
Top 10 Valentine's Day Fine Motor Skills Activities from Happy Brown House
Top 10 Valentine's Day Dinner Dates with Kids from Our Good Life
Top 10 Valentine's Day Books for Kids from Sunny Day Family
Top 10 Valentine's Day Printables for Preschool from Living Life and Learning
Top 10 Eco Friendly Valentine's Day Crafts from Nemcsok Farms
Top 10 Valentine Keepsake Gifts from Rhythms of Play
Top 10 Valentines Learning Activities for Preschoolers from Crafty Kids at Home
Top 10 Valentine's Day Activities For Toddlers from Adventures of Adam
Top 10 Photo Frame Valentine's Day Gifts from Teach me Mommy
Top 10 Valentine's Day Sensory Activities from Play & Learn Everyday
Top 10 Valentine's Day Treats from The Resourceful Mama
Top 10 Heart Crafts for Preschoolers from Powerful Mothering
Top 10 Valentine Party Games for Preschoolers by Playground Parkbench
Top 10 Valentine's Day Decorations from Witty Hoots
Top 10 Valentine's Day Sensory Bins from Still Playing School
Top 10 Valentine's Day Sensory Bottles from Little Bins for little Hands
Top 10 Candy Experiments for Kids from Lemon Lime Adventures
Top 10 Valentine Sensory Projects from Project Sensory
Top 10 Valentines Food Ideas for Kids from Eats Amazing
Top 10 Free Printable Valentines for Boys from Preschool Powol Packets
Top 10 Valentine Quotes on Love from Creative World of Varya