DIY Nature Gifts in A Jar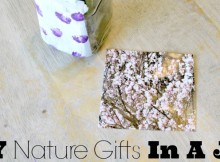 April 28, 2016
0 Comments
---
Project: Recycle & Create. Take a predetermined recyclable item, and create something fabulous with it. The recyclable: glass jars. The something fabulous: DIY Nature Gifts in a Jar. I can hear the collective ooh-ing an ahh-ing.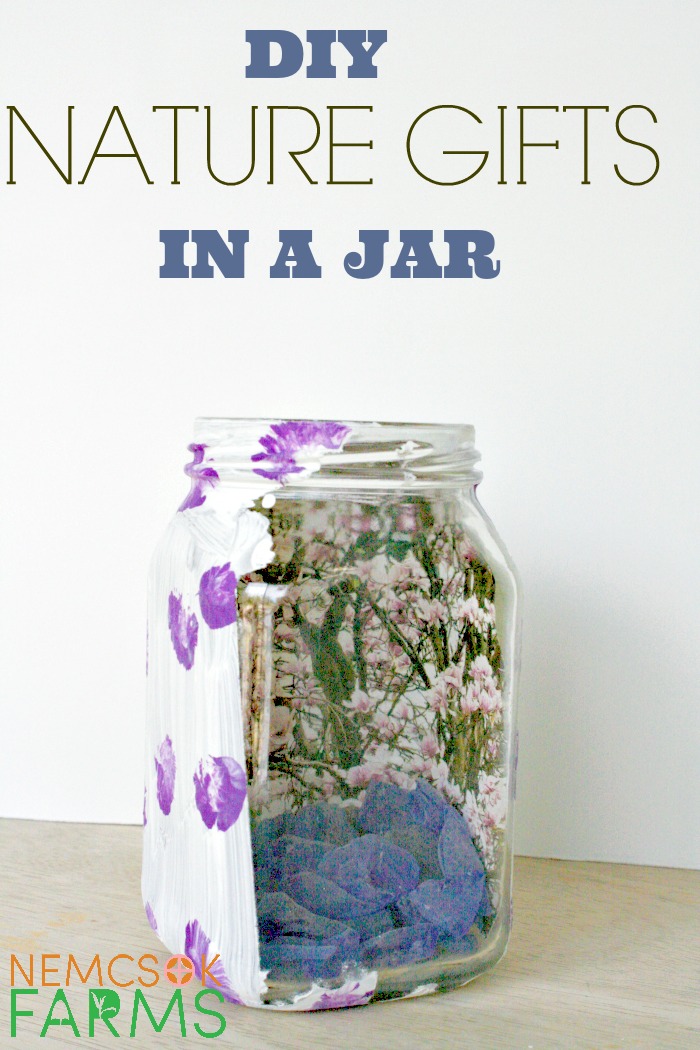 DIY Nature Gifts In A Jar
These perfect gifts in a jar are made from Upcycled glass jars, fillers that are found in nature, such as beach glass or your favourite rocks, and photos of your favourite things to do outside. Imagine giving ( or receiving these lively treasures for Mother's Day, Father's Day or even Teacher Appreciation Day!
About the glass jars. I avoid using mason jars for crafting. Mason jars have a very long life and are perfectly suited for storing and preserving food, and I hesitate to use them for anything else. That said, I am not about to get all judgy on you, for your project, you can use whatever you like.
About the photos. We used our favourite pictures from seed catalogues and lawn and garden supply stores. We ended up with an image of a beautiful cherry blossom, a garden bench surrounded with potted flowers, and a super fun image of a play structure.
DIY Gifts In A Jar
Materials
Glass jars
Acrylic paint
Paint brushes
Masking tape
Nature / Outdoor photos that you love
Filler materials, such as beach glass, rocks, sea shells etc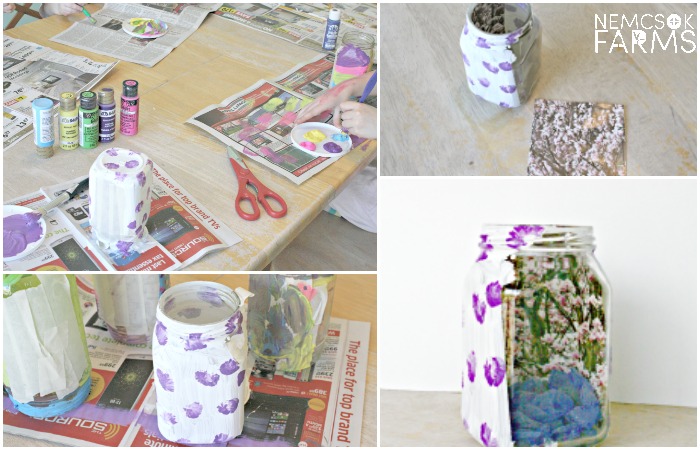 Directions
Wash jars, remove labels, and dry.
Cover one section with masking tape (this will be the window for your photo)
Paint the entire surface of the jar
Let dry, and then remove masking tape once dry
Place the photo inside the jar so that the image is visible through the window. Place the image so that the back of the image is against the inside of the jar.
Add your filler to the bottom of the jar and you're done!
Love This UpCycle?
You should definitely check out our Egg Carton Daffodils and Our Scrap Fabric Fairy Houses! And you can't possibly leave without seeing what all the hype was over our Gift Paper Frogs, and our Hand Knit Rag Rug!
Check out these other awesome projects from this month's challenge:
DIY Snow globe by Kidz Activities(not shown)
Recycle Plastic Pendant by Our Whimsicle Days
Calm Down Sensory Bottle by Sugar Aunts
Easy Teacher Appreciation Gift by Crafty Mama in ME
Chalkboard Lid Jars by Play and Learn Everyday
Photo Jar Luminaries by Mum in the Madhouse
Sea Glass Suncather by The Gingerbread House
Edible Sand Jars by Playdough & Popsicles
Fairy Lights Recycle Jars by Peakle Pie
Washi Tape Photo Jars by Teach me Mommy