Chocolate Chip Zucchini Cake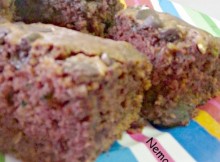 August 27, 2015
0 Comments
The Moistest Chocolate Cake You'll Ever Have. I kid you not.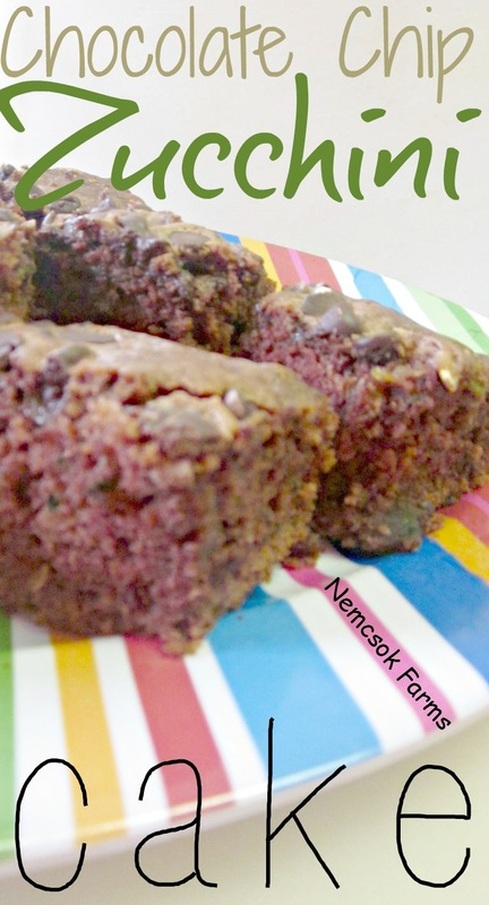 Zucchini
Zucchini are some of the easiest vegetables ever to grow, and they tend to be great producers. We love it sauted in tomato and paprika sauce, grilled, on kabobs and shredded into cakes and muffins makes for a super moist dessert that everyone loves. And much like with our Carroty Carrot Cake our Little Helpers could't believe there was vegetables in it.
Not that I'm trying to sneak them in or anything… oh no. Not me.
Chocolate Chip Zucchini Cake
It's pretty hard to resist chocolate cake. It's doubly hard to resist chocolate cake peppered with chocolate chips. Bake this with fresh from the garden zucchini, and you've got a win all around. The zucchini gives this cake it's super moist texture, and the chocolate chips save the task of icing it.
Ingredients:
1/2 cup butter, softened
1 3/4 cups sugar
2 eggs
1/2 cup applesauce
1/2 cup sour milk
1 tsp. vanilla extract
2 cups grated fresh zucchini
2 1/2 cups flour
1/3 cups cocoa
1 tsp. baking soda
1/2 tsp. baking powder
1/2 tsp. cinnamon
1/2 tsp. salt
1 cup chocolate chips
Directions:
1. Preheat oven to 350 F
2. Grease and lightly flour a 9×13 baking pan
3. Combine butter, eggs, applesauce, milk, vanilla and zucchini in a large mixing bowl, and set aside
4. Combine all of the remaining ingredients EXCEPT for the chocolate chips in another mixing bowl.
5. Fold the dry ingredients into the zucchini mixture until well mixed.
6. Pour batter into prepared baking pan.
7. Cover top with chocolate chips. Bake 35 min
Love this recipe and everything else you see here? You should totally see all the fun we're having on pinterest!