The Perfect Chili Recipe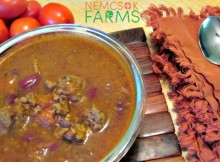 & My Top Ten Harvest Recipes
I love sitting down to a bowl of chili in the middle of a brisk afternoon! I also love eating the leftovers with nacho chips…
Searching high and low for the perfect chili recipe? Tempted to just throw some kidney beans into your spaghetti sauce? STOP RIGHT THERE.
This chili has just a smackerel of chil. Not too spicy, but most definitely warm.
Ingredients
And since I am a huge advocate for using what you have on hand, substituting canned tomatoes ( one large can), and dried spices in place of the fresh is totally fine – so make that 1 tsp. garlic powder, 2 tsp. dried basil, and 2 tsp. dried oregano.
Directions
1. Lightly brown the ground beef in a hot cast iron pan. Don't cook it until it has no colour in it, you will be cooking it some more with the remaining ingredients. When it is lightly browned, add it to a large pot or sauce pan. I use a dutch oven sized stainless steel pot.
2. Peel and chop tomatoes, and add them to the pot with the ground beef.
3. Add the tomato juice, kidney beans, and dry spices if you're using them, to the beef and tomatoes.
4. Finely chop the onion, garlic and the fresh spices if you're using them, and add everything to the pot.
5. Bring to a boil, and then reduce heat and simmer until you're ready to serve.
Top Ten Harvest Recipes
Even More Top Ten Harvest & Thanksgiving ideas….