DIY Rainbow Scarf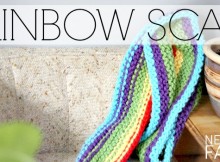 February 19, 2016
0 Comments
Truth be told, there is nothing quick about knitting a scarf. A scarf is a scarf. You can make it a quick project by using really thick yarn and multiple strands held together, throw in some oversize needles, and you're getting there. Make it a short scarf, and you're cooking with gas. But then again, time is relative, right?
(For your convenience this posts contains an affiliate link or two)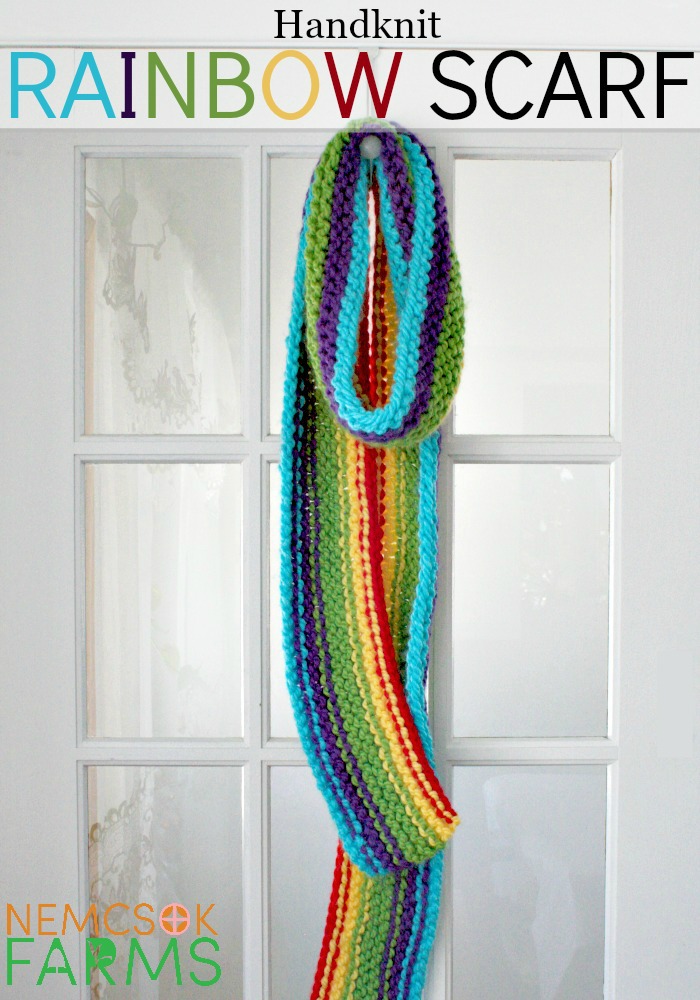 So, I made this scarf in my quest for cozy rainbow knits, and even though it took a while to complete – and by a while I mean, I started it Monday morning, and completed it Thursday morning, but no – I did not actually knit continuously the entire time, but I estimate it can be done in a few hours. I will probably make another one soon, and I will set a timer and report back. That's how I established the time it takes to make that Brilliant One Hour Neck Warmer I shared with you the other day.
My Creative / ng Process
(Did you see what I did there? Pretty clever, right?) It's important for me to share with you that when I post a knitting pattern here for you on my site, these are the steps I take.
Dream up something fantastic
Try to replicate what is in my vision – this quite often involves a few do overs, and rip outs, and multiple interuptions, etc… but I eventually get it right – OR I don't…
Write down all of the details of the pattern and the list of materials and prepare to share them here with you, all the lovely knitting enthusiasts, and then 4
Repeat. I follow the pattern I created for you, to seek out any errors, and to ensure that it is indeed followable. ( Who knew that wasn't a word?)
There is an exception to #4 in this circumstance however because first, the pattern is really really easy. It's just a knit stitch over and over and over again, and next, I was just really excited to share it with you so you could have it in time for the Top Ten DIY Rainbow Accessories list I was putting together for you. Without further ado, I present to you
DIY Rainbow Scarf
The completed scarf measures approximate 8′ long by 6″ wide.
A circular needle is used in this project, to accommodate the many stitches. Work back and forth on the circular needle, and DO NOT JOIN
Materials
Directions
With Blue, Cast on 180 sts
Row 1 ( wrong side) : knit
Join Purple, and knit 4 rows.
Join Green, and knit 6 rows.
Join Yellow, and knit 4 rows.
Join Red, and knit 1 row.
Bind off in red.
When finished with one colour, cut and secure the ends, and weave in later when you are finished your scarf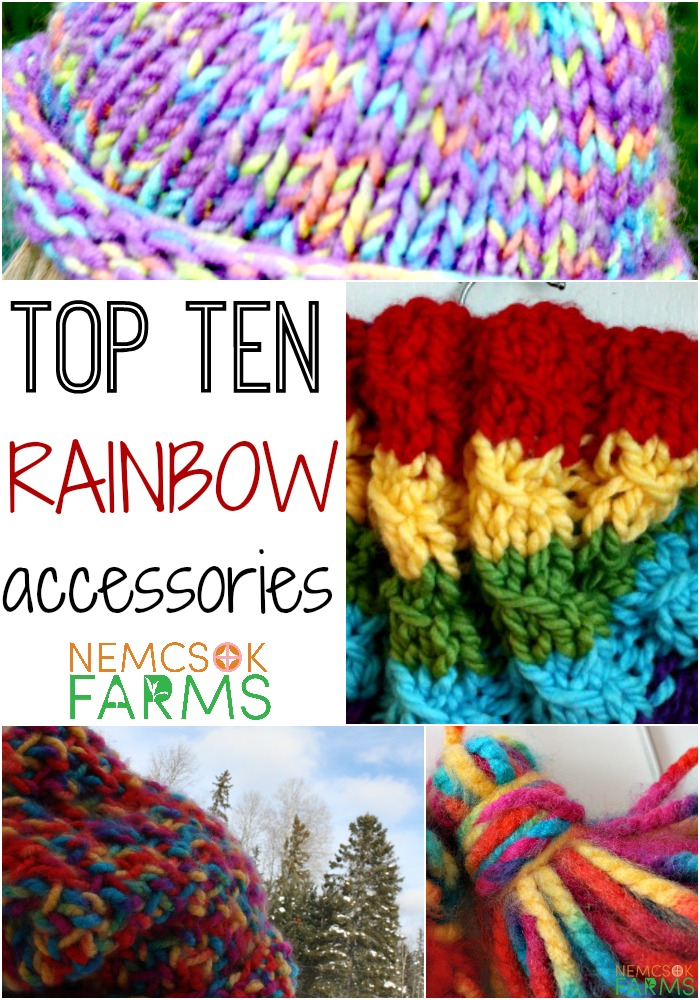 Top 10 DIY Rainbow Accessories
Rainbow Finger Gloves – Elise Dupont Designs
Rainbow Kurbits Hat – Johanne Landin
Rainbow Arm Warmers – A Friend to Knit With
Rainbow Dreadlock Tam – Sand and Sky Creations
Rainbow Cup Cozy – Envatotuts+
Granny Square Bracelet – Loom Love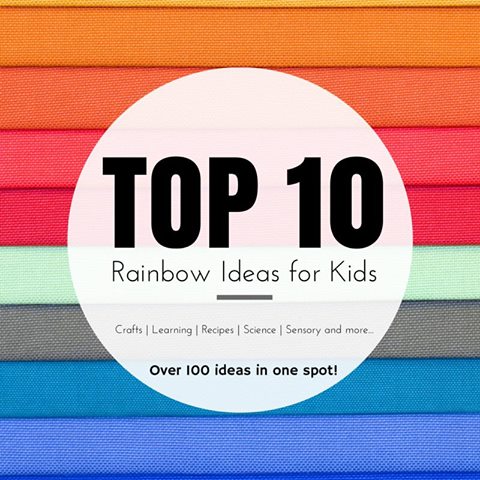 Top 10 Rainbow Art Activities from Sugar, Spice & Glitter
Top 10 Rainbow Play Recipes from Craftulate
Top 10 Rainbow Cupcakes from Our Good Life
Top 10 Edible Rainbow Activities from Adventures of Adam
Top 10 Rainbow Drinks from Witty Hoots
Top 10 Rainbow Play Dough Ideas from Creative World of Varya
Top 10 Rainbow Books for Kids from Sunny Day Family
Top 10 Making Rainbows STEM Activities for Kids from Little Bins for Little Hands
Top 10 Colorful Rainbow Games from Our Whimsical Days
Top 10 Ways to Paint a Rainbow from Still Playing School
Top 10 Color Matching Activities for Toddlers by Playground Parkbench
Top 10 Rainbow Crafts for Kids from The Resourceful Mama
Top 10 Rainbow Suncatchers from Rhythms of Play
Top 10 Fine Motor Skill Ideas Featuring Rainbows from Powerful Mothering
Top 10 Pot O' Gold Activities from Crafty Kids at Home
DIY Rainbow Puzzles from Teach Me Mommy
Top Ten Rainbow Loom Bracelet Tutorials from Words 'n' Needles
Top 10 Rainbow Fish Activities by Play & Learn Every Day
Top 10 Rainbow Preschool Songs from Preschool Powol Packets
Top 10 Rainbow Learning Activities from Living Life and Learning
Top 10 Healthy Rainbow Food Ideas from Eats Amazing
Top 10 Rainbow Busy Bags from Happy Brown House
Top 10 Color Theory Experiments for Kids from Lemon Lime Adventures