Pumpkin mini Muffins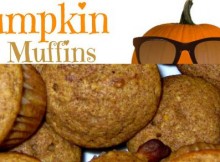 September 19, 2015
0 Comments
A nice light muffin made with pumpkin – y goodness! AndwWhat's better than a mini-muffin for a quick snack? You guessed it – a pumpkin mini- muffin!
& the top 10 pumpkin recipes!
It doesn't get a whole lot better than the smell of baking with pumpkin pie spices. Pumpkin is
a super duper healthy and yummy ingredient to add to many recipes. For tips on growing your own pumpkins read my gardening how to here
How to Grow Your Own Pumpkins
and if you'd like to learn how to make your own pumpkin puree, which of course you may as well, read my instruction here
DIY Pumpkin Puree
Ingredients
1 Cup Flour
2 tsp. baking powder
1/2 tsp. salt
1/2 cup sugar
1 tbsp. cinnamon
1 tsp. nutmeg
1 tsp. ginger
3/4 tsp. allspice
1/4 cup melted butter
1 beaten egg
1 cup pureed pumpkin
Directions
1. Preheat over to 375 F
2. Line mini muffin tins with mini muffin liners
3. Mix dry ingredients, set aside.
4. Add melted butter and beaten egg to pumpkin and mix.
5. Stir pumpkin mixture into flour mixture
6. Fill mini muffin tins 3/4 full and bake for 12-14 minutes.
Now for the other ten recipes I promised you….
In case you're not all pumpkined out yet….